Psychic
STRIP #138
The idea for this strip was suggested by
+EV
fan Smaptastic. Thanks, buddy!
Another
+EV
fan recently gave me a link to a really informative site about the various online poker rooms that accept
US Poker
players and what their rules are for that, including which deposit methods are allowed. You should check it out if you're interested in that stuff.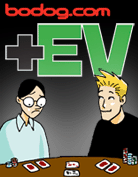 One of the biggest and best sites that allow Americans is Bodog, and they just became
+EV
's first exclusive sponsor! I'm very glad to have them on board and I hope you all never tire of seeing Bodog ads on every page of the site! Just give in already and sign up if you haven't yet. You know you will eventually.